Sitting in a cleft of the Pennines, the ancient village of Sutton is surrounded on three sides by hills which rise sharply to around one thousand feet. Falling from these hills is Sutton Beck, which runs through the village into Holme Beck, eventually joining the River Aire near Kildwick.
Suttun (as it was then known) is described in the Domesday Book entry of 1086 as Suttun Terra Regis, lands of the King. Rauenchil II car.ad gld, Ravenchil had two carucates of land to be taxed. In 1304, it was known as Sutton-in-Ayrdale and in 1543 Sutton under Soun. It was not until 1620 that it was listed on the deeds as Sutton-in-Craven.
Towards the end of the 17th centrury Sutton became part of the ancient parish of Kildwick, which consisted of the townships of Kildwick,Silsden, Steeton, Farnhill, Holden, Estburne (Eastburn), Bradley, Cowling, Cononley, Glusburn and Sutton.
The Electoral divisions of North Riding, East Riding and West Riding were set up under the Redistribution of seats act 1865. The township of Sutton was formerly in the parish of Kildwick in the wapentake of Staincliffe, West Riding County, York.
The settlement grew during the industrial revolution to become a typical example of a South Pennines mill village. Sutton, with addition of part of Glusburn, was constituted an ecclesiastical district in 1869.
In 1974 Sutton was removed from The West Riding to North Yorkshire. The village boundary on the South East side is also the one between North and West Yorkshire.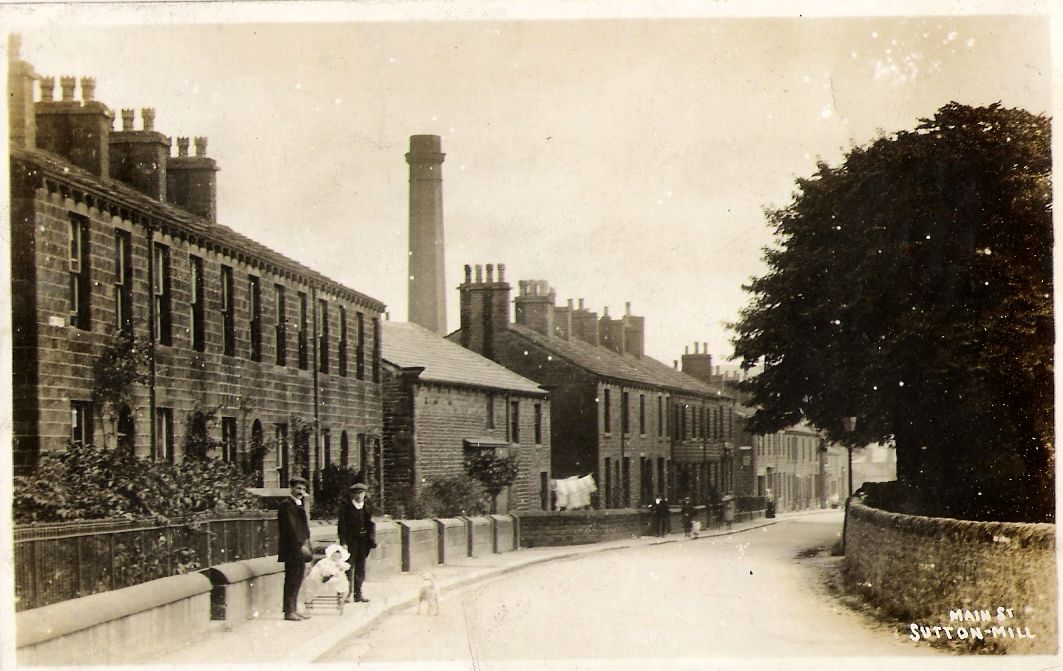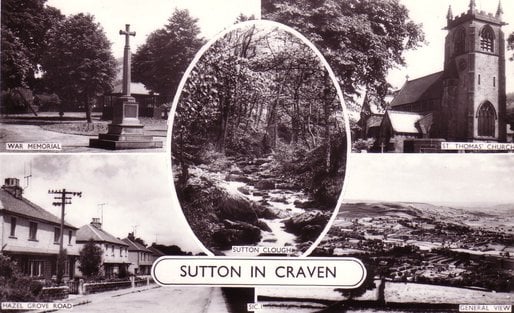 Before 1894, the affairs of the parishes had been administered by a vestry, or meeting of the village inhabitants. These meetings were dominated by the Lord of the Manor, the parson or parish priest and the principle rate payers and some became 'select vestries,' only open to those people deemed 'suitable' to serve.
By 1601, Church Vestry Meetings were given responsibility for levying the poor rate. These were the first effective local taxes. Everyone in the parish was entitled to attend Church Vestry Meetings but in practice the work fell to a few individuals, rather like Parish Councils today.
In 1834 the Poor Law Amendment Act removed Parish Vestries the responsibility for poor relief and handed it to Poor Law Unions (the origins of our present District Councils) parishes had naturally accumulated responsibility for administering local charities, managing commons under distribution of land as a consequence of the 18th Century Enclosure Acts.
In 1894 although the Squire, the Parson and sometimes the Schoolmaster were still leaders in the village, popular education was spreading and more people wanted a say managing local affairs. W. E. Gladstone, piloted the 1894 Local Government Act proposing the creation of Parish Councils through the House of Commons. It met a lot of opposition, there were over eight hundred amendments moved during its passage through the House of Commons. Nevertheless, the Act became law and Parish Councils were formed.